Here are instructions for people giving talks or presentations in the Conference Center
Using Voice Channels
Until such time as Decentraland has fine-grained voice channel controls available, we recommend the use of Discord voice channels. You can either set up your own Discord server and voice channels, and inform your audience about them, or you can use the venue-specific voice channels provided in the Conference Center's Discord Server (linked at the bottom of every page of this site). The association of our Discord voice channels with venues is listed on the Directions page. You can follow some other pattern of voice sharing that works for you, just be sure to let your attendees / audience know what to do.

Preparing Slide Presentations
Some venues in the Conference Center, such as the Meeting Center, are already set up for slide presentations. Other venues could be configured for slide presentations with sufficient notice.
Slides should begin in 16 x 9 landscape aspect ratio, and be saved as .png files. The .png files should be changed to be square by RESCALING them (NOT cropping them), and be 1024 x 1024 pixels. They should be saved with high quality / low compression to maximize their clarity.

We have had good luck with slides prepared using the following steps:

1. Create the slide show in PowerPoint or similar, using 16×9 widescreen/HD format.

2. Export or screen capture each slide to a .png file. The files should be named in a way that includes the slide number, with leading zeros as neccesary. For example the files might be named like:
"MyPresentation-01.png"
"MyPresentation-02.png" etc.

3. Using an image editing tool, such as Gimp or Photoshop, rescale the images sizes to be 1024 pixels by 1024 pixels square images. (Be sure to rescale the image, not to crop it. They will look "squished" horizontally, but that is correct.).

4. Provide the collection of slide images to the Conference Center management for uploading into the scene where you will present them.

5. Be sure to provide the Conference Center management with the Ethereum address of the account you will be using in MetaMask to log into Decentraland when you are rehearsing or presenting. Only white-listed addresses will be able to see and use the slide controls.

The Conference Center can assist in slide preparation / review.
Presenting Your Slides
Once your slides are uploaded by the Conference Center management to the venue you will be using, you can rehearse and present them, as follows.

The example given here is for the Meeting Center venue.
Be sure to log into Decentraland with your white-listed wallet address
Go to the venue. The standard venue URLs are listed on the Directions page.
Go to the room or stage for the presentation. Presentations given in the Meeting Center are typically controlled from on the stage in the North Room, although viewers can see the presentations on screens elsewhere in the Meeting Center.
If your wallet is white-listed you will see some controls and a teleprompter screen presented to you. These are NOT visible to other attendees.
The << and >> controls are for changing slide decks (for example for conferences with multiple speakers).
The < and > controls are for moving from slide to slide in the current deck.
There is a medium-small teleprompter screen over the front of stage-right, so that if you stand stage-right of the main screen behind you, facing the audience in the room, you can see your slides as you change them without having to turn around and look back.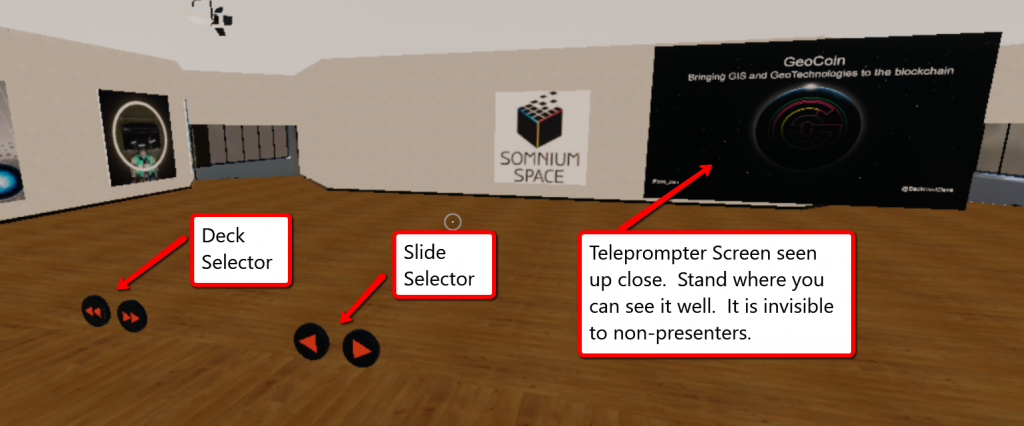 We recommend finding a time before your conference or presentation to rehearse with the controls and teleprompter a bit.
There is a small glitch seen sometimes, but only by the presenter. When you change to a new slide, it might "bounce" back and then forward again briefly. This is not seen by anyone but you so don't worry. Everyone else sees the slide change cleanly, just once, within a second.
Note that normally the presentation will be visible to attendees on the big screen at the back of the stage, as well as on screens in the Middle room, Expo Space, and breakout rooms in the Meeting Center venue, such that a large number of attendees can see the slides as you present, and they will be able to hear your voice via the Discord Voice Channel of the North Room if they choose.
By special arrangements, pre-recorded sounds and 3D models with animations, can be used in presentations. Please allow several weeks for the Conference Center Management to work with you to make these ready and working the way you wish.
Recording of Presentations
There is no way that the Conference Center Management can keep attendees from recording the audio or visuals of your presentation, although you can ask them not to do so if you wish.
On the other hand, if you wish to have the presentation recorded, you may arrange with your own tech staff, or with the Conference Center Managment, to record your presentation (e.g. video and audio recording from some "camera-avatar" point of view using the OBS application.)
Arrangements can be made to turn this video into a YouTube video, or use it as a guide to make a "canned" version of the presentation that can then be made available for people to see and hear self-service in the Conference Center meeting room when it isn't otherwise booked..
Live Streaming of Your Presentation
Using services like Zoom, Twitch, OBS, or YouTube Live, your presentation can be streamed to others who are not present in the conference center. Please consult with those services on how to use them for live broadcasting and/or recording. The Conference Center staff may be able to assist by special arrangement.